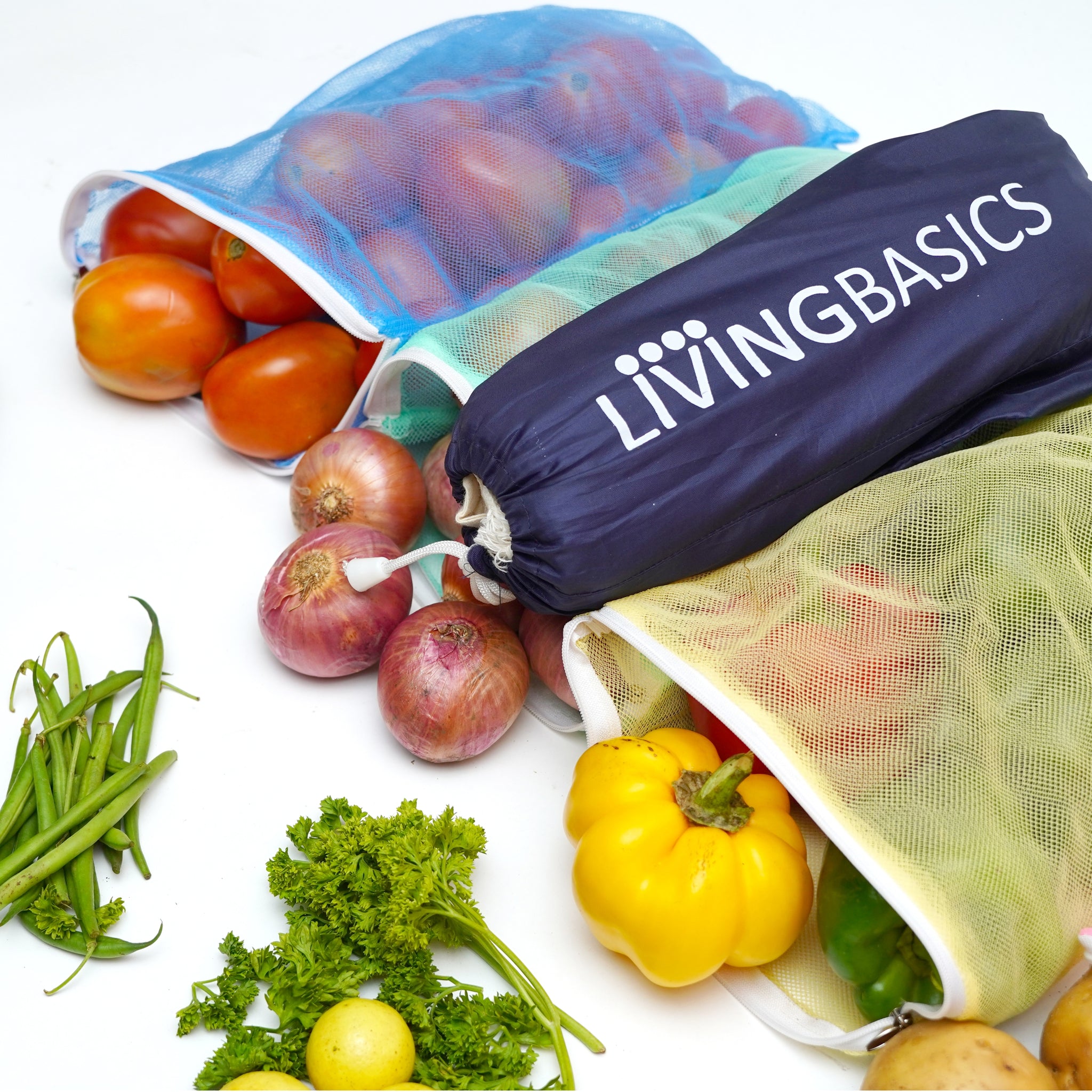 LIVINGBASICS Net Vegetable Bag (MULTICOLOUR)
Availability:
About this item
BUILT TO LAST: This reusable produce bags are lightweight, clear see-through, heavy-duty, and durable. Made of premium quality polyester material with double-stitched technology, Increase 50% extra load-bearing capacity; make us different in all of these products that look the same!

ECO & FOOD SAFE: One more step closer to a zero-waste lifestyle and cuts plastic use in a convenient way; Get 12 pcs reusable and durable bags, a great addition to your goal of being plastic-free and helping the environment, and each net bag has the potential to eliminate up to 1000 plastic bags over its lifetime. The multiuse bags are BPA, Lead, Mercury Free and food contact safe.

DESIGNED FOR YOUR CONVENIENCE: Size and quantity do matter. 12 pcs in 3 sizes for your variety usage. The set includes 4 pcs small (9x10 inches) 4pcs medium (9x12 inches) and 4pcs large (9x14 inches) sizes (S/M/L) with drawstring for easy identification and organization. Carefully selected set to fit your mostly usage. These are Netted Multipurpose Zipper Bag.

MULTI-PURPOSE STORAGE BAGS: Take the net produce bags to the grocery with you to hold loose food items such as fruits, veggies, nuts, and snack mix, etc. The mesh bags are also great such as toys, laundry delicates, small sports equipment, beach trips, gym clothes, makeup, school lunches, office supplies, camping trips, road trips, and virtually any form of household organizing you can imagine. You'll fall in love with these bags and quickly find many more uses for them around your house.

GREAT GIFT IDEA - Everyone needs to reduce plastic in our environment. Give LIVINGBASICS produce bags to your family, friends, loved ones, and yourself today. It adds a little fun to an otherwise boring or tedious grocery shopping trip. It will never be a mess to store and pick up the right baggies.

Convenient and Easy to Clean - Helpful for rinsing produce right in the bag. Soft & incredibly durable keep contents secure. Our rip-stopping & multi-use mesh produce bags avoid ripping or tearing like cheaper options. Easy to open and close with drawstring closure; Easy to clean, just rinse it with water or wash them with the rest of your laundry, then they are good to go again.

LIGHTWEIGHT & BREATHABLE: Give your fruits and veggies the airflow they need with our mesh produce bags that block fruit flies yet breath free to keep onions, garlic, & potatoes fresh (without the clingy mess or condensation of plastic bags); You can even use them to toss produce in the fridge and let your crisper settings pass-through for proper moisture control. The first touch of our soft, yet strong rugged polyester mesh will tell you that these reusable produce bags are built for daily use.