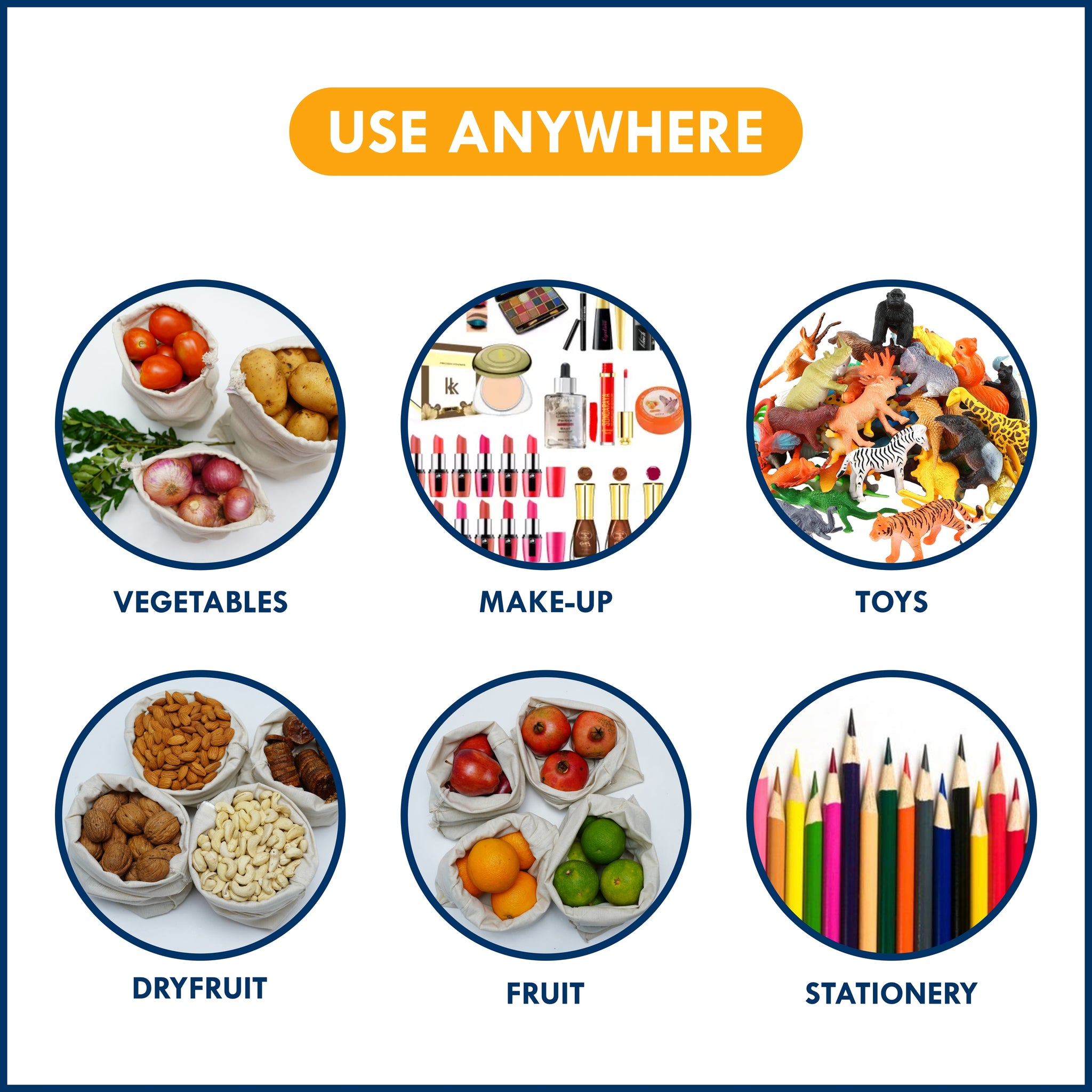 LIVINGBASICS Set of 12 Premium Double Layer Air Circulating Reusable Fridge / Refrigerator Bags / Pouches / Packs for Vegetables and Fruits Having Zip With Storage Bag (4 Large, 4 Medium and 4 Small Size)
Availability:
About this item
MADE IN BHARAT: We are happy to announce that "All THE PRODUCTS OF LIVINGBASICS ARE PROUDLY MANUFACTURED IN BHARAT ." With our Vegetable/Fruit Pouch we are promoting Women Empowerment for needy women's and those who lost there jobs during the COVID pandemic for better growth of nation. All bags are stitched with the qualified women's.

INVEST RATHER THAN SPEND: "Keeping You in mind" LIVINGBASICS provides you with guaranteed long term value products, as the Veggies, Nuts & Dry Fruits storage covers are made with premium quality mesh fabric, sturdy zip and high end stitching processing which will provide you stylish & organised solutions to your daily needs with huge capacity storage.

SAFEGUARDING YOUR EDIBLE PRODUCE: LIVINGBASICS Net bags with vents air help increase the life and freshness of the Fruits and Vegetables. These storage bag are breathable and perishable items will last longer in them than other regular bags. Moisture and heat will not get trapped inside and damage/ rotten the items. Keep your veggie fresh for longer days in fridge. Net mesh fabric allows ethylene gas to pass out from vege cover.

EFFORTLESS & HANDY: Wash your herbs, roots, leafy vegetable, Sprouts, Salad & Grains directly in the bags and then place them straight into the fridge. More savings, less food wasted and great for the environment. Washable packers, stain free packets, reusable , no worries to get shrink, Vegetables don't get dry & spoiled. Get stress free from carrying set of multipurpose pouches with our free storage pack. These veg container bag are also stretchable and can carry more items than a plastic.

VERSATILE USAGE: LIVINGBASICS Cereals/ Pulses bags are more functional than plastic ones. They are durable and long lasting. You can also use them for a variety of purposes like shopping, storage, laundry, refrigeration, children's items, toys, road trips, short vacay, makeup bag, file & folders, taking to the beach, gym, cosmetic & essentials, Office accessories, groceries, sports equipment's. You'll fall in love with these bags and quickly find many more uses for them around your house.

STYLISH DESIGN WITH HIGH QUALITY: Expand & give fresh look to your fridge with strong mesh net bag with super durable zipper, it is foldable & portable too. Avoid mess and organise your grain, dry fruit & green vegetables in clean & hygienic way. Highly flexible than traditional way of storing polythene bags. An airtight plastic bag is not a good choice for storing vegetables, they are tightly together and no space for air circulation hence they spoil veggy faster.

Easy Accommodation : These bags have huge capacity storage and carry green vegetable, fruits, herbs, roots, dryfruits, cereals, grains, pulses, leaf vegetable like: Spanich, corriander, mint, cauliflower., cabbage. Available in white with set of 12 bags in variations of 4 each size Small, Medium, Large.