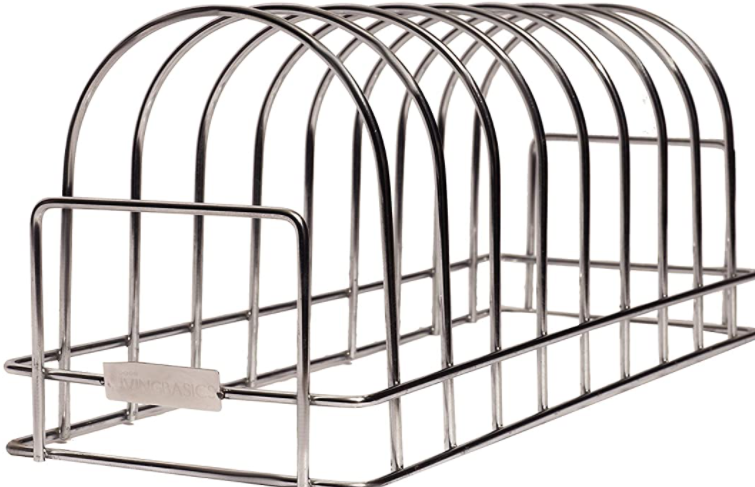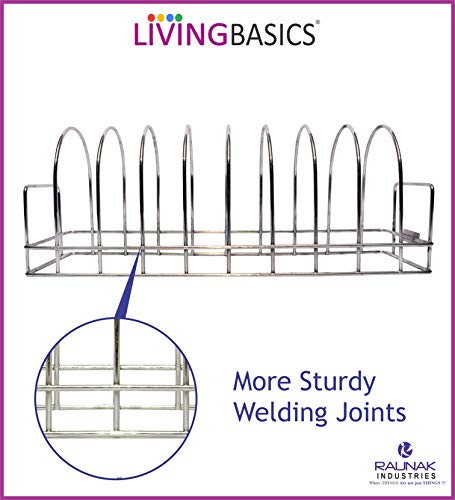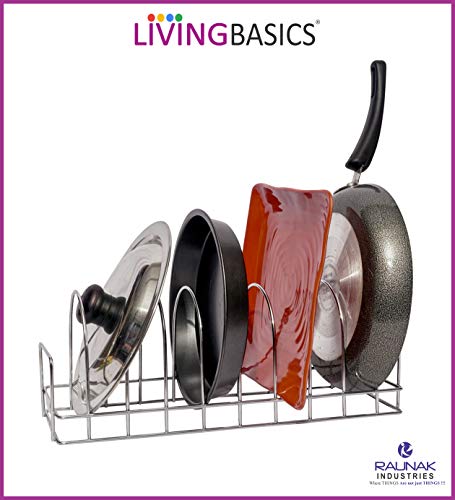 Anti Rust Stainless Steel 10 Sections Round Shape Dish Stand, Plate Rack, Lid Organizer Rack
Availability:
ORGANIZE YOUR CABINETS: Keep your cabinets orderly by securing dishes, bakeware, pots, pans, and lids in the organizer. The cookware and dish/plate rack will keep items neat within the cabinet or on the countertop, and the rungs separate the items to make it easy to grab the skillet or lid that you need without disrupting the stack.
STYLISH ORGANIZATION: 9 vertical rungs create 10 storage spaces for your kitchen dishes. The sleek, geometric design and modern finish add style to your kitchen organization system. Extend your kitchen décor into your cabinets, or display your decorative dishware on countertops or near the sink for a unique touch.
SIMPLIFY STORAGE: Save space in cabinets by utilizing storage space. Stand the organizer up on the short end, and stack pots, pans, lids, muffin tins, cake pans, cookie sheets, and more. Make it easy to grab what you need to make dinner or whip up a batch of cookies without moving stacks of baking sheets or pots.
EASY CARE: To clean, wipe down with a damp cloth and towel dry. Wipe down as needed to remove dirt buildup from the sturdy steel.
DIMENSIONS: 5.5" L X 16.5" W X 5. 9" H; 1.6." between rungs. [Made In India] (The delivered product will be exactly the same as shown in the images as we believe in transparency). For customer service and warranty-related queries please contact us: +91 6262422422 (Available Monday to Saturday from 9:30 am to 6:30 pm except for national holidays).
___________________________________________________________________________________________
Product description
"Quality Isn't Expensive It's Priceless"  


Dish Organizer, Plate Rack, Lid Holder,   
Designed to neatly organize your cookware lids, LivingBasics Plate Organizer maximizes your cupboard space while managing your cookware clutter. Accommodates up to six lids, it's also great for storing plates, baking sheets, and cutting boards. Made of sturdy steel, this organizer is perfect for those looking for a great space-saving solution in their kitchen cabinets. 

Accommodates up to 10 Utensils / Containers. 
Also great for organizing plastic containers, plates, baking sheets, and cutting boards 
Easily fits on shelves inside cupboards 
Approximately 1.5" wide between dividers 
Sturdy steel construction 
Overall dimensions: 5.9"H x 16.5"W x 5.5"L 

The Multi-Functional LivingBasics Dish Organizer 
Cookware: 
Cookware can easily pile up and create a mess inside a kitchen cupboard. Eliminate the clutter by storing cookware lids, bakeware ten provided slots. Perfect for in-cabinet use or on top of your kitchen countertop. 
Office: 
If you lack filing cabinet space, use this clever little organizer to keep office files, folders, envelopes, and mail neatly organized on your desktop or counter. Memos and important files can be kept within sight so you never miss an urgent deadline. 

Organize your cabinet shelves with the Lid Organizer from LivingBasics. The kitchen rack holds plates, pots, pans, lids, bakeware, cookie sheets, muffin tins, reusable containers, and more. Designed with easy access and organization in mind, these racks hold items upright and make it easier to grab the pot, pan, dish, or lid you need without disrupting a stack of similar dishes. Can be used either vertically or horizontally to maximize storage space. The clean, angular design adds a modern touch to your kitchen and the range of stylish finishes.
| | |
| --- | --- |
| Product Dimension LxWxH | 42 x 15 x 15 Centimeters |