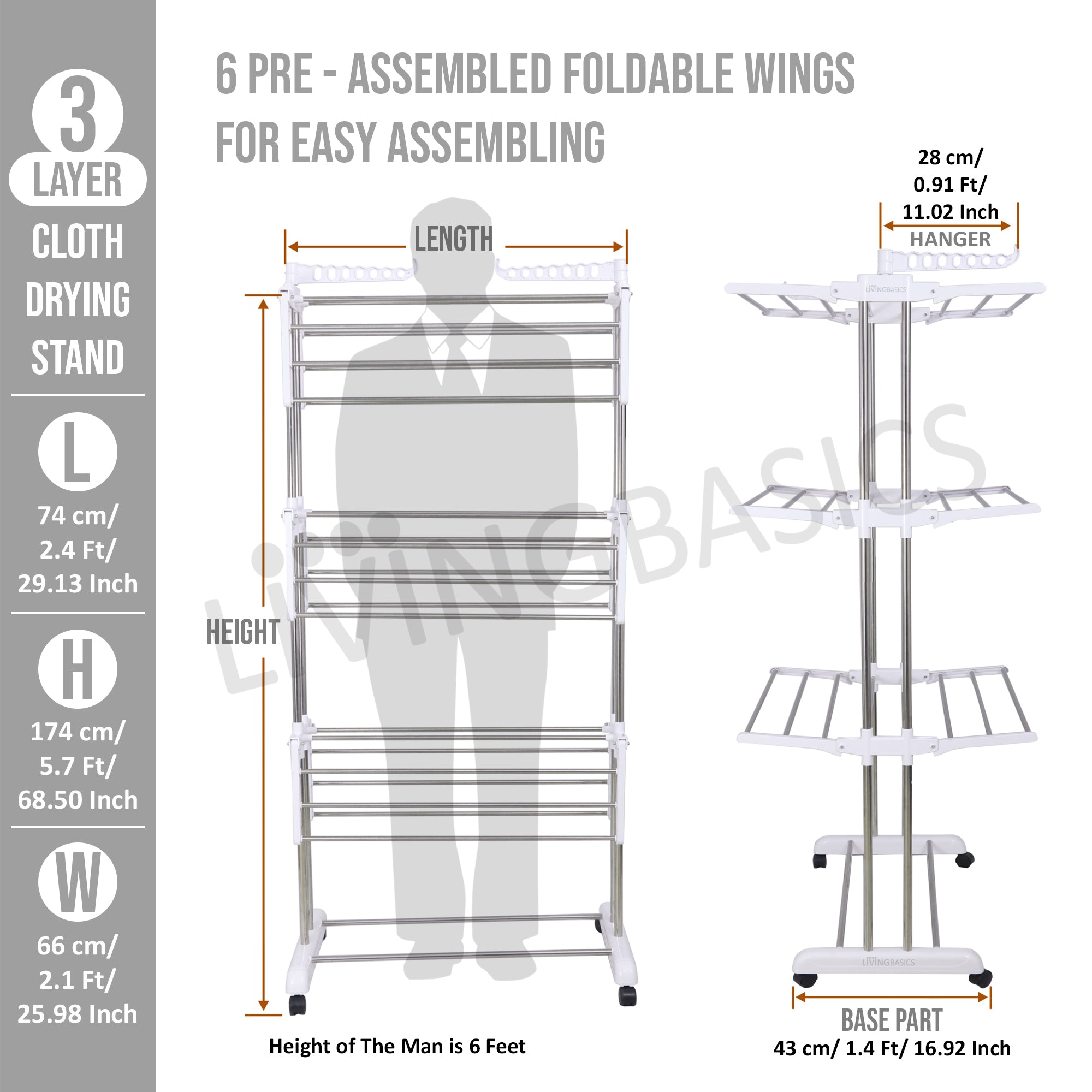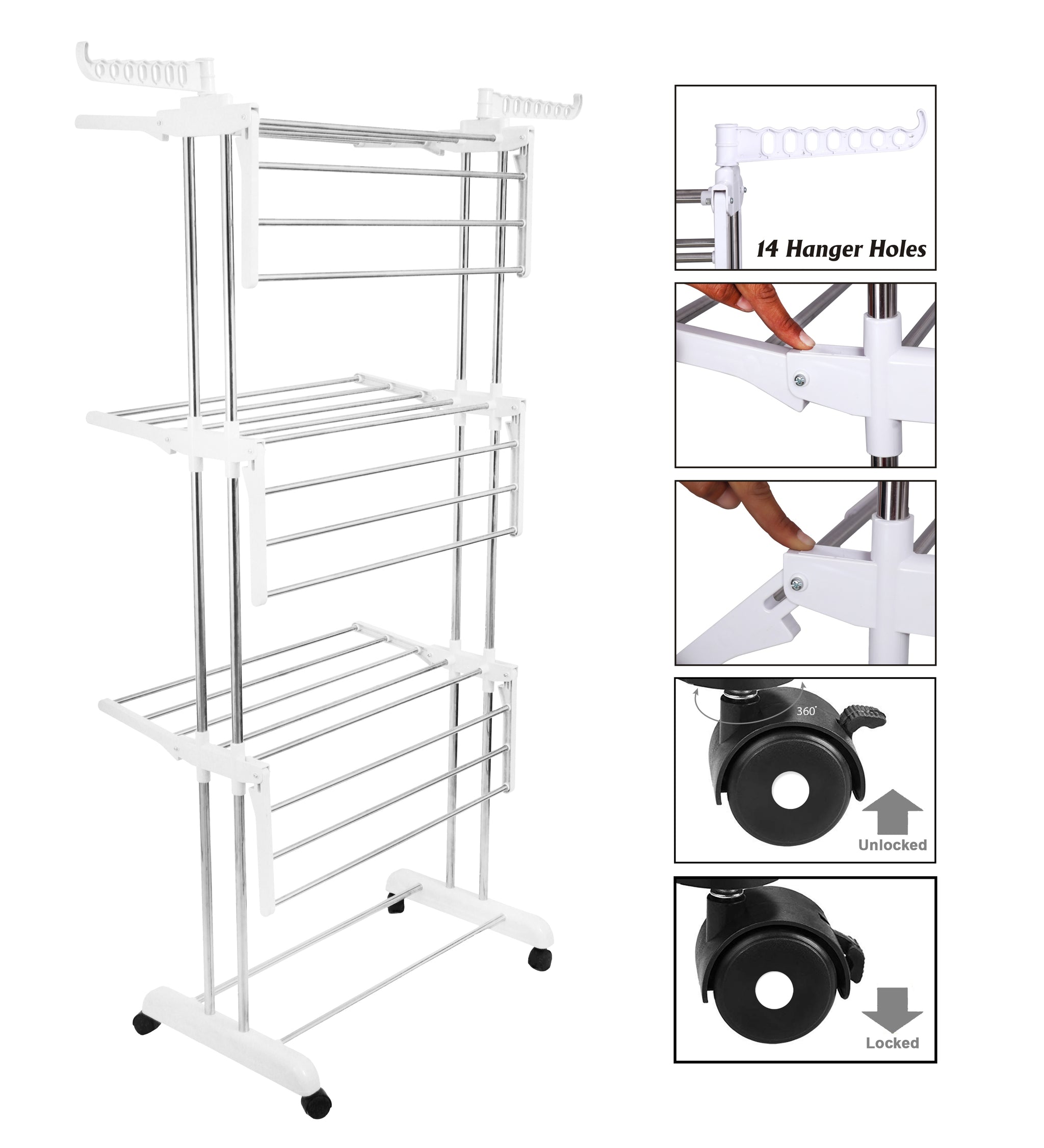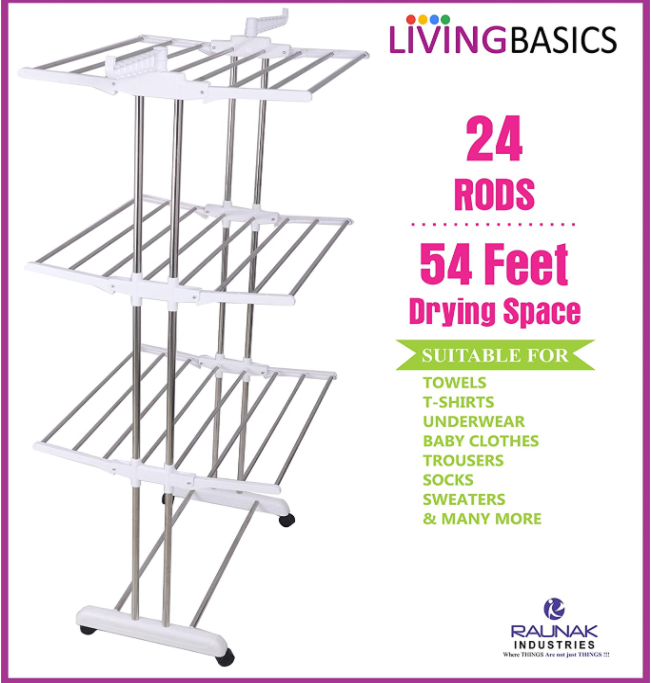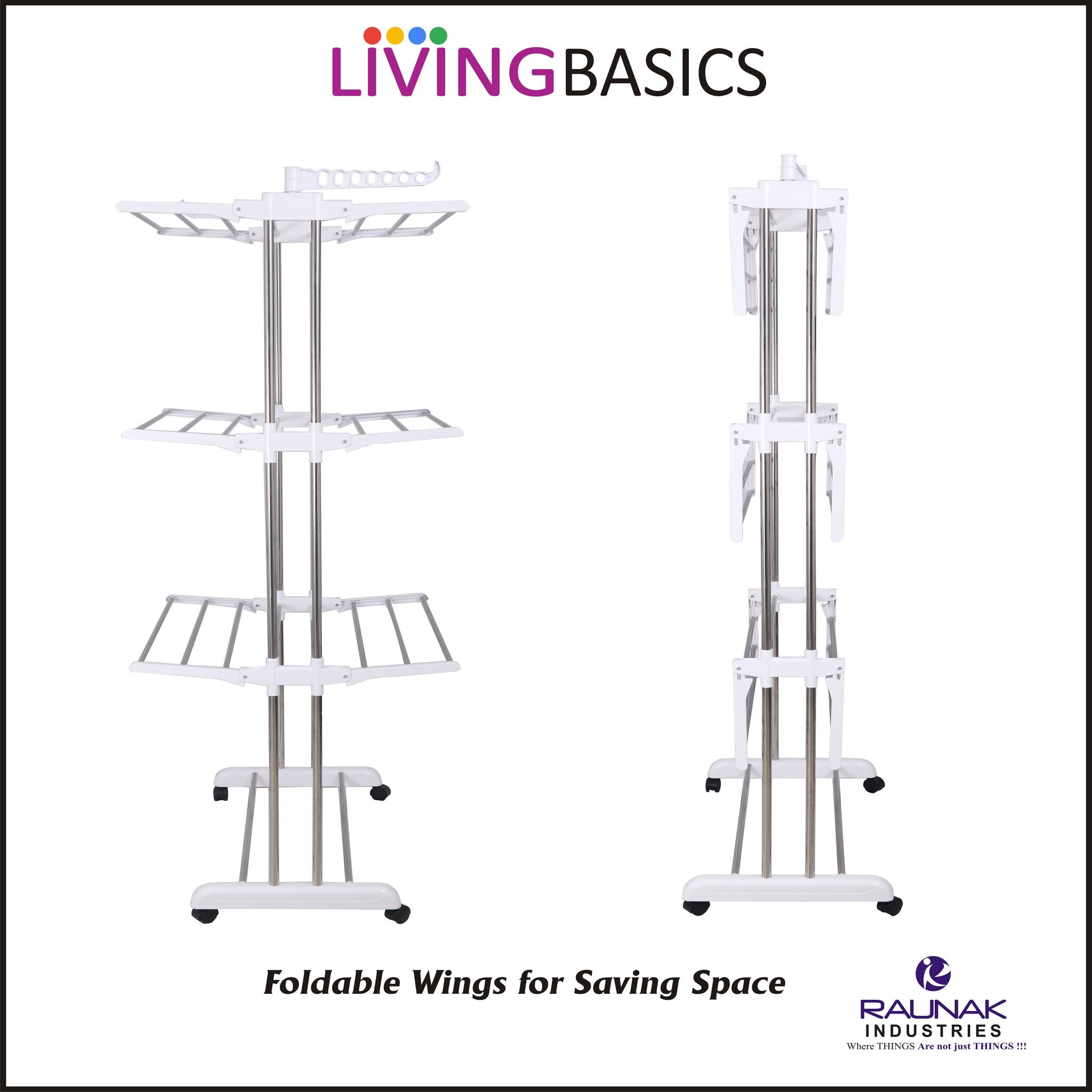 Products LivingBasics Stainless Steel Double Pole Foldable Clothes Drying Stand/Cloth Dryer Stands/Laundry Dry Rack with Wheels for Indoor/Outdoor/Balcony (Snow White) (ABS Plastic)
Availability:
1."Quality Isn't Expensive Its Priceless" LIVINGBASICS - brings a high-quality cloth drying stand that meets all your requirements whether you need to store seasonal clothing or require additional hanging space. This is a practical and well-designed cloth dryer stand that will take about 5-10 minutes to assemble with the help of the manual provided. It has 6 foldable wings and is equipped with 4 rolling casters to move arbitrarily, which makes it easy for you to dry clothes in the backyard/balcony or anywhere in the home. It is made up of Stainless Steel & ABS plastic. It also has two plastic attachments with holes for hangers giving you space for the extra laundry day.
2.PROUDLY MADE IN BHARAT: We are happy to announce that "All the products of LivingBasics are proudly manufactured in Bharat." We manufacture high-end products with premium-grade material which stays with you lifelong.
3.INVEST RATHER THAN SPEND !!: " Keeping You In Mind" THIS CLOTH DRYING STAND HAS 100% RUST FREE STAINLESS STEEL RODS WITH GUARANTEED LONG TERM VALUE WHEN COMPARED TO WHITE / BLACK POWDER COATED IRON RODS. We use superior quality material than other manufacturers to ensure a strong load capacity and long-lasting use. This robust stand can take a load of more than 50 kg of wet clothes.
4. COLLAPSIBLE AND MOVABLE CLOTH DRYING STAND [Huge 54 feet Drying Space]: The cloth drying stand is a 3-layered jumbo double pole rack with 6 folding wings and 24 sturdy rods. The foldable wings help in saving space which is perfect for small spaces. Besides, it has enough space between the rods for a quick air dry and is equipped with 4 upgraded castor wheels which move 360 degrees for its easy movement outside or inside.
5. YOU WILL ADORE YOUR CLOTHES [Attractive Design and Effortless use]: It is the most suitable for limited space and the wings can be folded when not in use. It provides 54 feet of hygienic surface drying space along with 14 hanger holes for hanging lots of clothes at once. You don't need to worry about ropes and nails anywhere in the house. NO PANICKING even if it rains, you can quickly move it inside the house/bedroom from balcony/terrace.
6. EXTRA SPACIOUS AND LONG-LASTING [BEST IN CLASS]: The sturdy cloth drying stand has 100% rust-free stainless-steel rods with guaranteed long-term value when compared to white powder coated mild steel rods. The stainless-steel rods are germ and corrosion resistant which is suitable for homes with kids or pets in them. It also has high-quality ABS plastic which will withstand heavy use and adverse environmental conditions and have great strength & resistance to chemical corrosion.
7. EASY ASSEMBLING: Assembling this cloth drying stand is a piece of cake. There is a manual with assembly instructions inside the box. It will hardly take your few minutes to be installed and ready for use. This cloth dryer stand's aesthetics appearance provides a modern and attractive appearance to your home.
8. BRAND TRUST WARRANTY: LivingBasics provide 1 year Brand Trust Warranty against manufacturing defect. Remember, we are just a call away in case of any shortcoming/MISSING PART and we would love to know if we lack anywhere. ALERT: Beware many sellers are using our photographs and selling FAKE & LOW-QUALITY PRODUCTS similar to ours. Always choose seller name LivingBasics and get Original and Premium Quality.
9. 

OU GET WHAT YOU SEE (100% SATISFACTION GUARANTEE): We always take care of our customers as we believe in transparency which results in the delivery of the exact same product as shown in the images. And if there is anything in which we can help you, you can always reach out to us.
10. FINEST CUSTOMER SERVICE: All the products are well packed after a proper quality check. If in any case you receive any damaged part/product due to transit/logistics, you may reach us directly we will love to provide you the best possible way out. If you have questions or problems, please contact us for immediate assistance (Available Monday to Saturday from 9:30 am to 6:30 pm except for national holidays).
| | |
| --- | --- |
| Product Dimensions LxWxH | 73.2 x 67.1 x 179.8 CM |
| Product Weight | 5.66 KG |
| Total Rods | 24 |
| Total Hanger Holes | 14 Nos |
| Total Drying Space | 54 feet |