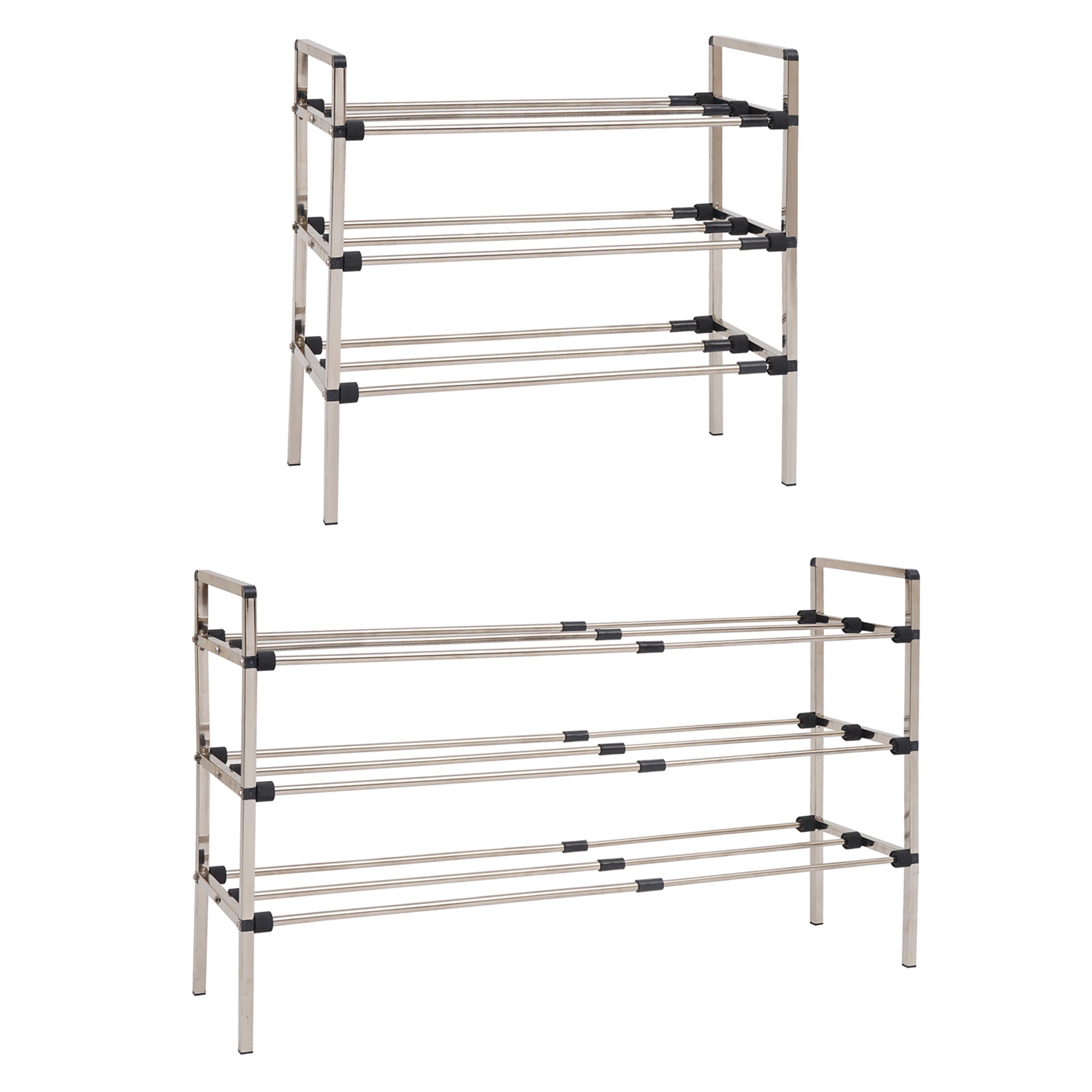 LIVINGBASICS 3 Shelf/Tier/Layer Stainless Steel Expandable Shoe Rack for Home, Extendable/Adjustable Footwear/Slipper Stand, Space-Saver Storage Organiser - Office Entrance/Outdoor/Entryway
Availability:
EXCEPTIONAL & UNIQUE FEATURES: THIS FOLDABLE SHOE RACK HAS 100% RUST FREE STAINLESS STEEL RODS WITH GUARANTEED LONG TERM VALUE WHEN COMPARED TO WHITE POWDER COATED MILD STEEL RODS. Stainless steel rods are also germ & corrosion resistant which is more preferable when you have kids and pets at home. Made of quality stainless steel that's durable and sturdy

SIMPLE TO ASSEMBLE: This stainless steel shoe rack requires no tools for installation, just tight the threads of horizontal steel bars on both the sides and it is ready to store your footwears

EXPANDABLE AND ADJUSTABLE FUNCTIONALITY: This shoe stand can be extended up to 1.7x times which will be able to store more shoes, also this heavy duty shoe rack includes detachable poles, you can remove the rod as per your need, example - if you want to store taller boots in the lower layer you can remove the middle layer for maximizing the vertical space

SPACE SAVING SHOE ORGANISER: There's always room for more shoes, that's why presenting you first time in India the most elegant Expandable Shoe rack. So, don't stop yourself from buying more shoes just because of space, the expandable shoe rack will solve your problem just pull/ Stratch it from both sides and enjoy storing more shoes in a stylish way

STABLITY & QUALITY: This Stand is made of stainless steel and Nylon Plastic(Unbreakable Joints) for life long lasting. The free standing shoe rack can hold up to 20 pairs of shoes, which can meet your various needs for shoe storage to the greatest extent. You can store slippers, shoes, sandals, boots, heels, sliders, sneakers etc.