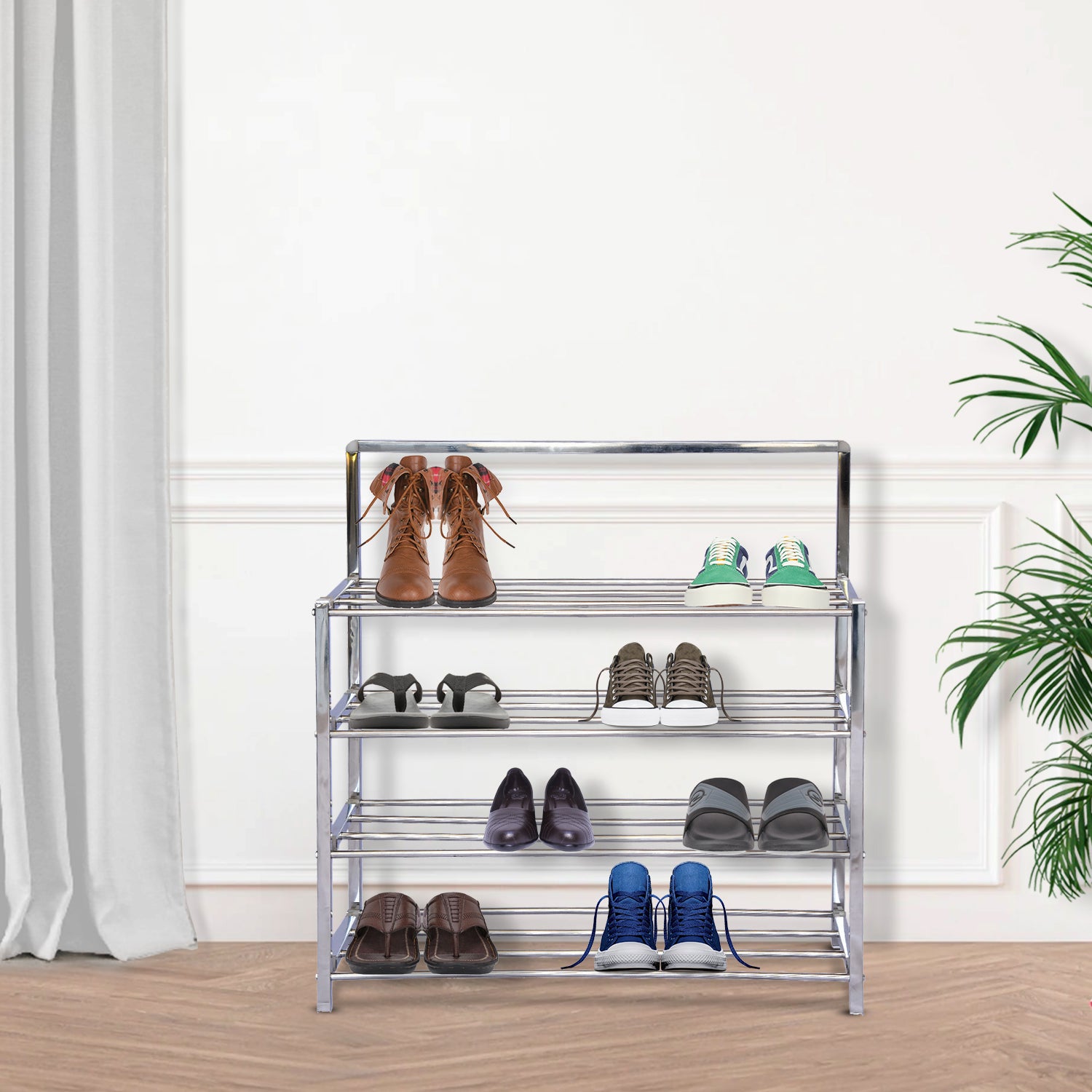 LIVINGBASICS 4 Tier Stainless Steel Installation-Free Foldable/Folding Shoe/Shoes Rack/Stand for Home Office, Upgraded with Locking System
Availability:
EXCEPTIONAL & UNIQUE FEATURES: THIS FOLDABLE SHOE RACK HAS RUST-FREE STAINLESS STEEL RODS WITH GUARANTEED LONG-TERM VALUE WHEN COMPARED TO WHITE POWDER-COATED MILD STEEL RODS. Stainless steel rods are also germ & corrosion-resistant, which is preferable when you have kids and pets at home. Made of quality stainless steel that's durable and sturdy

UPGRADED LOCKING SYSTEM: The sturdy rack has a locking system on both sides so that when you use it, it can be locked with ease, and kept intact without falling forward

ALL THE SPACE FOR THOSE EXTRA PAIR OF SHOES [Spacious]: The foldable shoe rack comes with a compact design and takes up very little space when not in use. When in use, it has enough capacity to hold all your favourite pairs of footwear

GIVE YOUR FOOTWEARS WHAT THEY DESERVE [Foldable Shoe Rack with Unique Features]: A very convenient shoe rack for home and office keeps all your footwear neatly in place. It is a convenient option and can be kept in any corner. Your footwear deserves proper care and hygiene which can be given with this wonderful foldable shoe stand

NO INSTALLATION REQUIRED: Are you worrying about installing a freestanding shoe rack with complicated steps? No need to worry as our foldable shoe organizer is Installation-free, Open the box unfold the shoe stand and lock it with the upgraded locking system and enjoy storing your shoes, slippers, sandals, boots, heels, sliders, sneakers etc.